Hey guys and gals, just looking to keep a running online record of my B-ride and the ongoing efforts to make it more and more unique...
Pretty much stock with 35% tint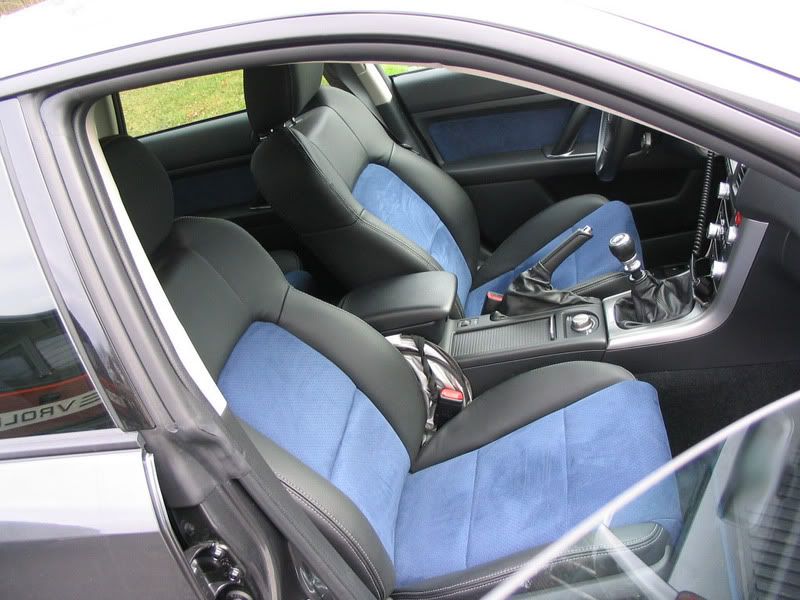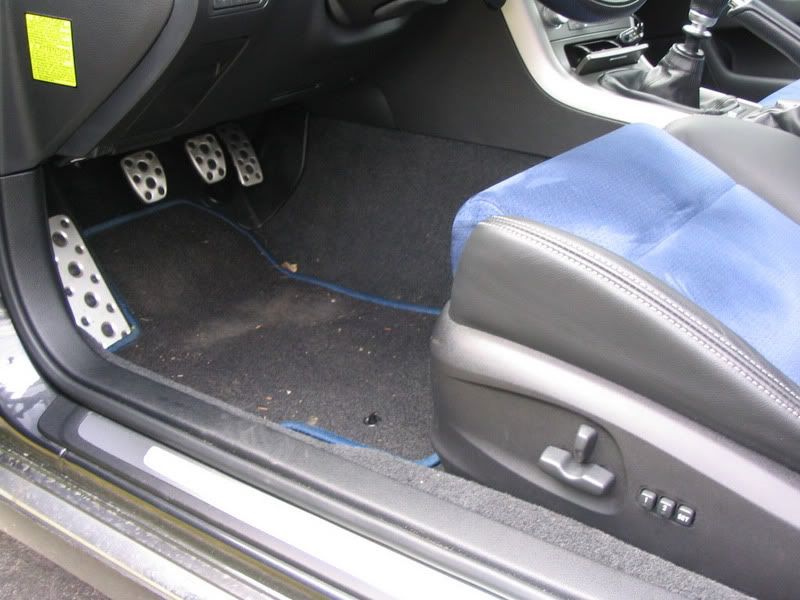 debadged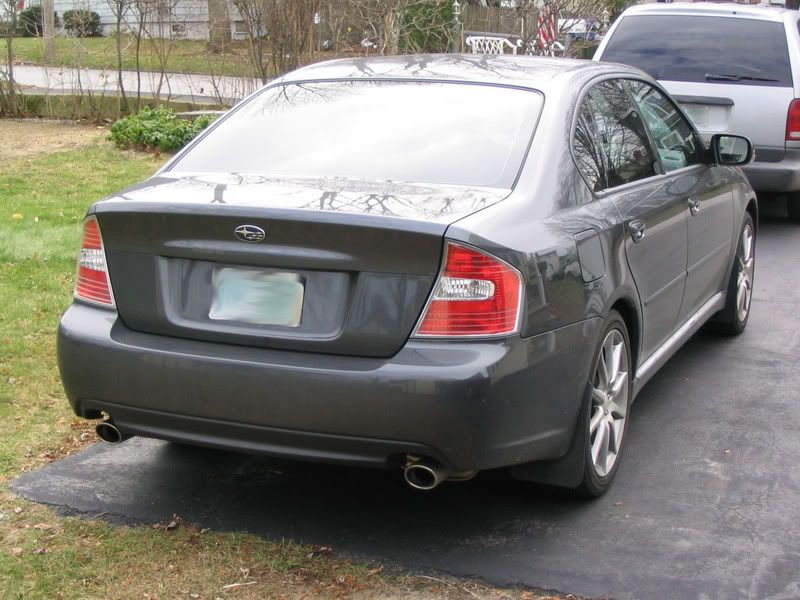 OEM vs Function 7 pitch rod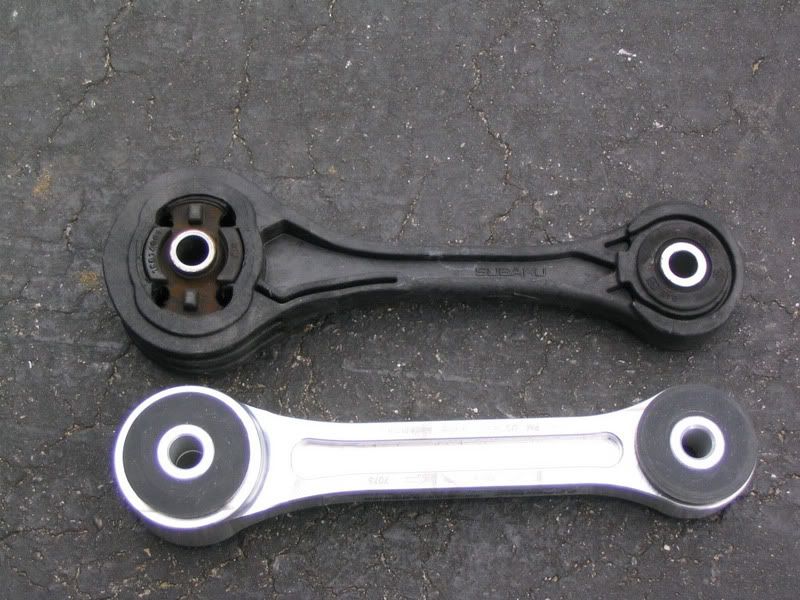 Function7 aluminum dogbone with graphite urethane bushings...makes the firewall act like a speaker!!!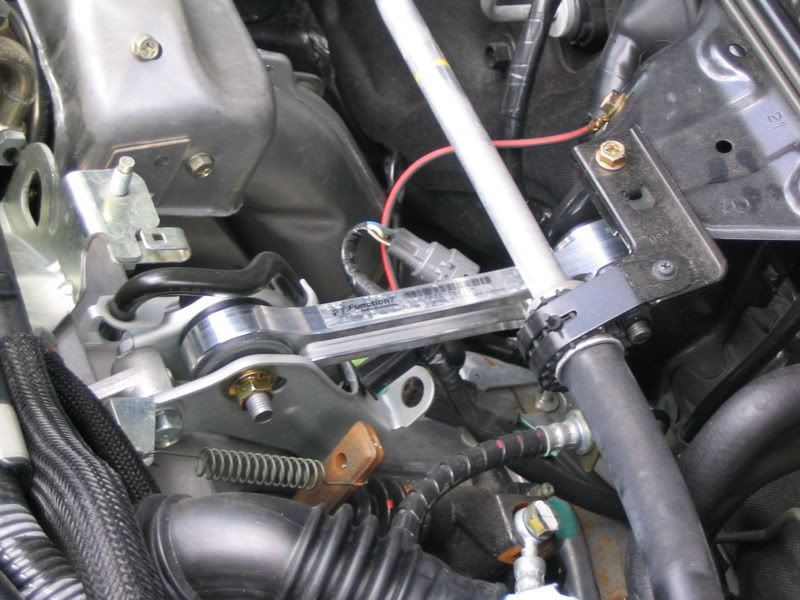 More pics to follow....but here is the comprehensive mod list to date:
Engine:
Silencer delete
(honestly haven't noticed increase in anything...just extra space behind the front bumper on the RH side....good for IC sprayer that'll be coming!)
Megan Racing Cat Back Exhaust
(3" from cat up to Y-pipe, then to 2.5" to quad-tipped mufflers....love the sound....should get louder with anticipated MR DP)
Elite Engineering Catch Can
(this is originally designed for Corvettes, but can be easily fit up to almost any car. This is a gorgeous, FUNCTIONAL piece designed by motoring enthusiasts. Great customer service too!)
AVO 3" SS downpipe w/ metal HFC
(Tight fit, but is looks great, sounds great and helping push the power!)
AccessPORT from RalliTek
(Stage 2. Love it so far!)
Drivetrain:
STi 6MT tranny mount
(loved the 98GT 5MT version...so why not?!)
Function7 pitch rod
(aluminum dogbone/urethane graphite bushing. had it from STI project, so I put it on. Lets me hear the ticking of the motor without leaving the comfort of my heated memory seats!
)
Turn in Concepts (TiC) transmission crossmember bushings
(urethane allows less movement of tranny supporting crossmember...in Cherry Blossom Red too!)
Kartboy front and rear shifter bushings
(again, loved the front bushing on my 5MT, so I decided to throw in the rear this time around....love these things!!!)
Kartboy specB short shifter
(FINALLY, its Kartboy, its a short shifter and its custom made for the specB....there's nothing else needed to mention, except: GET IT!)
TiC pivot and linkage bushings
(If you haven't visited TiC's store, you're missing out! These guys have stuff that compliment Kartboy items (and they sell Kartboy too!) so get over there! These bushings rock! Rock-Solid!)
06 OEM STi front Helical diff
(oh yes, I did it. NO REGRETS!!! What a car!?!)
Subaru Extra-S 75W-90 GO
- (Slick and JDM. Recommended for 6MT...and probably any FHI 5MT too)
Suspension/Handling:
JDM STi Legacy pinks
(improved over OEM springs, but looking to better the package even more. drops more than advertised, but its even)
Whiteline urethane steering rack bushings
(either I've gotten used to them or they're not as much of a bang for the buck mod.....I've gotten used to them...
)
AVO adj Rear Sway Bar 20/21mm
(VERY BIG IMPROVEMENT over stock....oh crapster what a stiffer ride!)
AVO RSB brackets
(these puppies should have been the way the stock setup was....these brackets WILL NEVER bend or twist unless directly hit in an accident)
AVO rear sway links
(love the adjustablility of them and much more solid than OEM)
Cusco rear lower arm bar
(it tightens up the rear)
Cusco front strut tower brace
(it actually tightened up the front and changed my opinion of FSTBs for late model Legacys!)
AVO adj front sway links
(nice stout piece to complement the rear set. I like that I can pre-load them from side to side)
AVO CAB
(gives more caster for a more stable, on center feel and better feedback from and to the wheel! Increases noise a touch and a bit of harshness, but if you're putting these on, more than likely, you know what you're in for and looking for.)
Cusco Front Lower Arm Bar
(the final piece de resistance to shore up the chassis....well, that's on my list anyway. Does what it's meant to do.)
Michelin Pilot Sport PS2 225/45-R18
(due to an unexpected hole that exposed some nylon cords on my OEM RE050A's, I stepped up from 215 to 225 sooner than expected, but am enjoying the size upgrade none the less! Sticky, in dry and wet, quieter than the Potenzas and a touch softer sidewall helps lessen the less than acceptable roads here in New England...still doesn't help against the careless highway asphalt worker when they "attempt" at making transitions to new pavement. But, no performance tire will.)
Brakes:
CarboTech Bobcat front and rear pads
(much nicer and modulating bite....virtually no fade now! yay!!)
ATE Super Racing Brake Fluid
(no change in feel...but good to have in there)
Goodridge stainless steel brake lines
(much better pedal feel! no regrets there!)
Exterior:
headlamp upgrade
(12 ga wiring w/ 65w Osram Rallye Ultra High Output H7 (lows) & Toshiba HIR1 9011 9005 (highs))
foglight upgrade
(55w selective yellow fog bulbs H3 now tied in with LH brake light tied in to fog switch)
headlamp sprayers
(DIY heaven...straight outta the salvage yard! 94 Legacy windshield sprayers. Tied into OEM factory WWF pump)
debadged
(love the clean look I got by doing this)
35% tint on all rear windows
(again, love what this does for looks, privacy and heat reduction, not to mention reduce sun fade on the interior)
Rally Armor mudflaps
(more obvious than OEM accessory flaps, but also more effective and adjustable for the season. very strong!)
Lamin-X HID blue tinted vinyl fog protection
(been a fan of this company for years....looks good and helps protect your lenses!)
Hella 118 db SuperTones
(were in stock location until recently, now painted to match car and behind grille....wish they were a touch louder than they are....like the tone though)
Subaru security lugs
(also have a custom cap for them to keep ice, water and dirt out of the groove....deters the novice)
DIY headlamp mods
(painted to match car, removed low beam "ring pointers" which kind of remind me of a jewel setting on a ring, added chromed 3157A directional bulb and added 194 city lights from 1991 Infiniti G20 in the high beam area)
DRL disable
(for obvious lighting looks reason)
Independent fogs
(again for obvious lighting looks reason. works with low beam and NOW with just parking lights on. still shuts off with high beams for legal reasons.)
Lamin-X for headlamps
(clear, 20mil, for the same reason as the fogs...protection!)
STi replica rear lip spoiler
(really finishes up the rear end nicely!)
Interior:
Maglite holder clips
(for ease of reach under rear bench from driver seat!)
NAV unlock
(allows me, er, uh, passenger to input destination info ON THE MOVE! very sweet!)
Escort Passport 9500i
(this thing is SWEET!)
OEM subwoofer
(gives the passenger a nice added "ride" of bass....nothing shattering...but nice and subtle)
EDM AT armrest
(raises and extends the armrest...with more storage!)
Turbo XS Knocklite
(once I get the shift lite where I want it, this thing will rock! ...bigger than I thought it would be though...but I was expecting something the size of a pen. Glad I got it and glad its installed)
STRI DSD-CS 30psi Boost gauge
(Nice gauge, looks great with stock cluster! Very simple to use!)
STRI DSD-CS gauges (oil temp, oil pressure, egt)
(Finally got these installed with a DIY plate. Soooo nice to see what the engine is doing rather than guessing! Recall button is great and they are very clear to read!)
Gauge mirror
(now I don't have to look down to see what the gauges are reading at! DIY of course.)
Foot well lighting[u] (tied in with dome light, so when the doors open, the floors light up, and yes, when the doors close, the foot well lights dim just like the dome light....pure class!)



[u]Have, and waiting to get installed:
DIY IC sprayer
On the wish list: